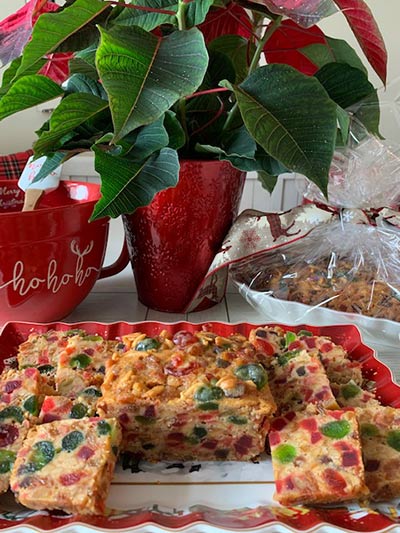 Orange Almond Fruitcake
(Makes 2 cakes)
Ingredients:
3 cups mixed candied fruit
1-1/2 cups coarsely chopped candied pineapple
1-1/2 cups halved candied cherries
2 cups golden raisins
1 cup citron peel
1-1/2 cups finely chopped blanched almonds
2 cups all-purpose flour
2 tsp baking powder
½ tsp salt
½ cup butter, softened
1 cup granulated sugar
3 eggs
1 tbsp grated orange rind
1 tsp almond extract
½ cup orange juice, pulp free
Directions:
Preheat oven to 250 F.
Grease two 9-5-inch loaf pans; line pans—bottom and sides—with double thickness brown paper. Grease paper well. Set aside.
In a large bowl, combine mixed candied fruit, pineapple, cherries, raisins, citron peel, and almonds; toss with ½ cup flour and set aside.
Stir together remaining flour, baking powder and salt and then set aside.
In a large bowl, beat butter with sugar until fluffy. Then beat in eggs, one at a time, orange rind and almond extract, beating well. Add flour mixture to sugar/butter mixture alternately with orange juice, mixing just until flour is incorporated. Fold in fruit mixture. Once it is well combined, spoon into prepared pans.
Set shallow baking pan half full with boiling water on bottom rack of the oven. Bake cakes on center rack for 2-1/2 hrs or until fork inserted into center comes out clean. If cakes begin to crack, cover loosely with foil.
Let cakes cool completely in pans on racks. Cakes can be wrapped well and stored for up to 1 month. Enjoy!