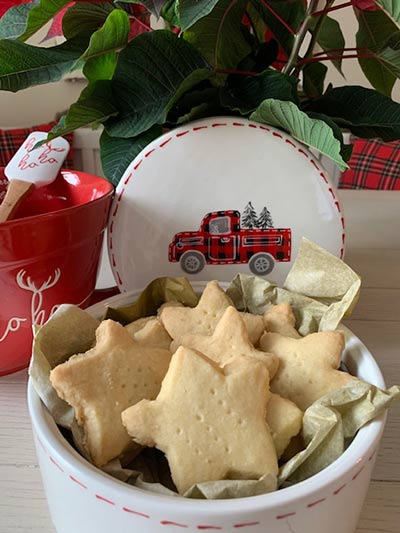 Shortbread
(Makes 24 cookies)
Ingredients:
1 cup butter, softened
¼ cup cornstarch
¼ cup granulated sugar
1-3/4 cups all-purpose flour
Directions:
In a large bowl, beat butter until fluffy and then gradually add cornstarch and sugar. With a wooden spoon, beat in a ¼ cup of flour at a time.
On a lightly floured surface, roll out dough to ¼ inch thickness. Using a floured 2-inch cookie cutter (I used bigger but you won't get 24 cookies), cut out cookies. Place on parchment paper-lined baking trays and prick cookies three times with fork. Freeze until firm. At this point, you can transfer to freezer bags and store in freezer for 1 month.
Place froze rounds on bake sheet and bake in 275 F oven for 30 to 40 minutes or until firm to touch. Remove from baking sheet and let cool on racks. Shortbread can be stored in airtight containers for up to 2 weeks. Enjoy!