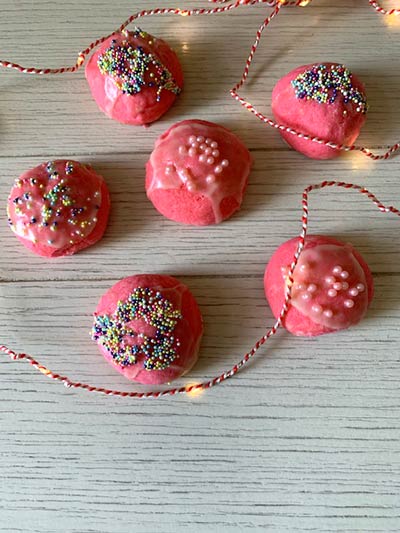 Sugar Plum Cookies
(24 cookies)
Ingredients:
1/2 cup butter, softened
1 cup granulated sugar
4 eggs, room temperature
2 tsp vanilla
3½ cups all purpose-flour
4 tsp baking powder
Glaze:
2 cups powdered sugar
1 tsp vanilla
1-3 tbsp water
Sprinkles for topping
Instructions:
Line two baking sheets with parchment paper.
In a large bowl, using hand mixer, cream together butter and sugar. Add eggs, one at a time, beating well after each addition, then add vanilla extract and beat again.
In a medium bowl, whisk flour and baking powder. Gradually add to wet ingredients and mix well until combined.
Cover the dough and refrigerate for one hour or until well chilled.
Preheat over to 375
With hands, form dough into round balls. Place on prepared baking sheets and bake for 10 minutes or until bottoms are golden brown.
While the cookies are baking, prepare glaze. In a small bowl whisk together powdered sugar, vanilla, and one tablespoon of water at a time until the desired consistency is reached.
While the cookies are still warm, dip in glaze and then add sprinkles before cooling on wire rack. Enjoy!