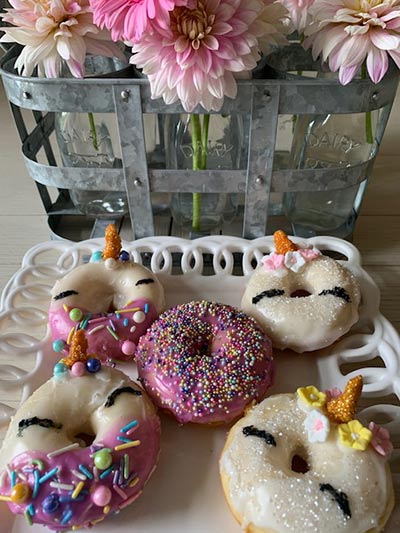 Unicorn Baked Donuts
Ingredients for Donuts:
(Recipe should make 10 donuts)
2 cups all-purpose flour
2/3 cup of sugar
2 tsps. baking powder
4 tbsps. butter melted
2 eggs
¾ cup of milk
Glaze:
1 cup of powdered sugar
3 tbsps. milk
Sprinkles & food coloring
Unicorn Horns:
Salt water taffy or Starburst candy
Gold sprinkles
Instructions:
Preheat oven to 350 degrees.
Spray donut pan(s) with cooking spray.
In a large bowl, whisk together flour, sugar, and baking powder.
In a small bowl, whisk together, milk, cooled melted butter, and eggs.
Add wet ingredients to dry ingredients, stirring until well combined. Try not to overmix the batter.
Spoon batter into the donut cavities, filling ¾ full.
Bake in oven for 8 to 10 minutes, depending how hot your oven is.
Remove from oven and transfer donuts to a wire rack, cooling until warm enough to handle.
Glaze:
In a medium bowl whisk together powdered sugar and milk. If glaze is too thick, add additional milk a ½ tsp at a time. If you're coloring some of your glaze, spoon ¼ of a cup into separate bowl and add food coloring.
Decorating donuts:
Dip the warm donuts in the glaze and immediately top with sprinkles. Allow donuts to sit for 30 minutes before serving or stacking. To make unicorn horns, cut off pieces of salt water taffy or Starburst candy, soften and form into horn. Dip into glaze, and then roll in sprinkles and attach to donut.